Written by Ardent Editor on July 14, 2011 – 4:05 am -
This website is for informational purposes only. This is provided as a service to download old files. There are no support forums; do not email us for support.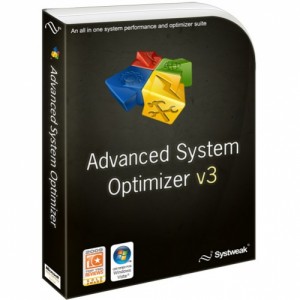 When it comes to PC system utility software, Advanced System Optimizer tops the list. It receives high marks when it comes to maintaining the performance of your computer's system by fixing errors in the registry and hard drive, thus protecting your system and privacy while optimizing sllow system processes.
Now on its third version, Advanced System Optimizer features an easy-to-use interface that may overwhelm new users, but they would realize that the software's loaded features are extremely functional and necessary. One of the most basic tools found in this software is Smart PC, which combines several PC system utility features into a single scanning engine. It erases junk data, defragments the hard drive, removes spyware and privacy traces, repairs and optimizes the computer's registry, and updates devices drives in just one click.
Meanwhile, advanced users would be delighted about this software's multitude of useful tools like the Common Problems Fixer tab, which tweaks standard problems usually encountered by your computer, which includes system fine-tuning, security optimization, and locating duplicate files. Meanwhile, the PC Fixer identifies problems in your computer and presents you with possible ways to fix them.
There is also a Registry Cleaner tool that can scan up to 14 categories of registry keys so it can pinpoint invalid and erroneous entries, which could result in many problems in your computer's performance such as increased amount of error message and decreased system reliability. Also, the Disk Cleaner and Optimizers tag helps get rid of files and file fragments that clutter your hard drive, eliminating files you no longer need as well as empty folders left by previously deleted applications.
Advanced System Optimizer version 3 is available for purchase at Herman Street, costing $39.95, which can be slashed by $10 if you happen to encounter its special offer. Works for Windows XP, Windows Vista, and Windows 7.
Download Advanced System Optimizer version 3 here!
Tags:
Microsoft Windows
,
system utility software
Posted in
Cleaning Software
|
Comments Off

on Advanced System Optimizer v3