Written by Ardent Editor on July 14, 2011 – 9:58 am -
This website is for informational purposes only. This is provided as a service to download old files. There are no support forums; do not email us for support.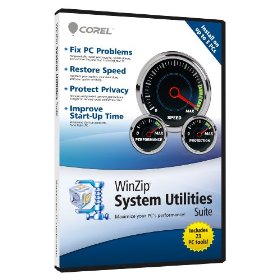 If you want to manage your computer's system yet lack the knowledge to do so, the WinZip System Utilities by Corel is for you. This PC system utilities software offers tools that help diagnose and repair many system problems and optimizes your computer to keep it healthy and perform its best. It comes in a simple, easy-to-use interface that both beginner and advanced users can appreciate.
At the heart of WinZip System Utilities is the Smart PC Care, which offers an assortment of scan that can find any problem that could be infecting your computer. This feature is user-tailored, customizing the scan and choose which system to inspect. It can pinpoint files in the hard drive, registry errors, drivers, or any privacy trace that need to be deleted. The Smart PC Care also comes with a scheduler that you can set the date and the frequency a type of scan can take place.
The WinZip System Utilities also has a large selection of repair and recovery tools to help improve your computer's performance. One such tool is the Startup Manager, which sorts through the computer's programs that are loaded during startup and remove any unnecessary ones, thus making your computer run faster during this stage. There is also a Uninstall Manager that frees your computer's disk space by uninstalling any programs you may have downloaded before but are no longer needed. Meanwhile, recovery tools such as the Restore System Files and Undo Delete help retrieve important data that were lost.
This software can also help a lot of gamers because of its Game Optimizer tool, which diverts all processes of your games in an area of the computer that would not be disrupted. It also has a memory optimizer that cleans any unused memory, as well as several features that clean and manage your hard drive.
The Corel WinZip System Utilities is available at Amazon for $39.99. It works on Windows XP, Windows Vista, and Windows 7.
Download Corel WinZip System Utilities here!
Tags:
Microsoft Windows
,
system utility software
,
Windows XP
,
WinZip
Posted in
File Compression
|
Comments Off

on Corel WinZip System Utilities