Written by Ardent Editor on July 14, 2011 – 6:28 pm -
This website is for informational purposes only. This is provided as a service to download old files. There are no support forums; do not email us for support.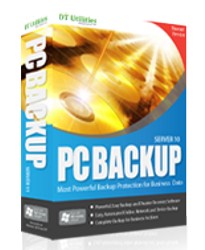 Among all file backup software, only a handful can do full, image-based backup recovery; DT Utilities PC Backup is one of them. It is also one of the few programs that can backup all the settings and preferences of your Windows Operating System, saving you a lot of time in case your computer needs a system restore.
The latest version 11 of DT Utilities PC Backup comes with a free 10GB trial account, FTP functionality, and integration with Amazon's online storage service. This software makes it easy for beginner and advanced users to manage, as everything can be done in as few as a single click, thanks to its one-click data backup and one-click restore functions. It also comes with a native virus scanner to make sure your backed-up files remain secure. This version can also backup photos, music files, documents, and even emails.
The Disaster Recovery feature is image-based, taking screenshots of your entire PC to quickly restore the device in case of system crash or hardware failure. Meanwhile, the Open File Backup tool allows users to backup files that are currently in use. The program also supports drive spanning, allowing multiple drives for backup, and has the ability to create a bootable disaster recovery disc, which can fully restore your computer without having to install the original software of your operating system.
The PC Backup comes in dual modes for beginners and advanced users. The Simple Mode provides straight-forward backup tools, while the Advanced Mode provides access to a powerful suite of features for a professional-level backup protection. It also comes with a Flexible Scheduler tool, which takes the hassle out of create backup files so you would not have to remember when to do it. Simply select the options and the frequency the software backs up your files.
The DT Utilities PC Backup 11 requires Intel Pentium III or higher, 512MB of RAM, 1500MB of available disk space, and Internet Explorer 7.0 or higher. It supports Windows XP and Windows Vista. This software can be purchased directly to the publisher for $49.99.
Download DT Utilities PC Backup 11 here!
Tags:
Microsoft Windows
,
system utility software
,
Windows XP
Posted in
Data Backup
|
Comments Off

on DT Utilities PC Backup 11