Written by Ardent Editor on July 21, 2011 – 12:12 pm -
This website is for informational purposes only. This is provided as a service to download old files. There are no support forums; do not email us for support.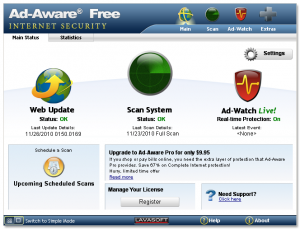 There are many free antivirus programs available online, but not all of them are reliable. Here are some of the best antivirus and anti-malware software that you can download for free.
Ad-Aware Free Internet Security (pictured) – This free software has been highly praised by many tech publications. Not only it is effective in finding malware, but also at blocking it. Now on its ninth version, the Ad-Aware Free Internet Security is almost as good as its Pro counterpart. Works only on Windows.
AVG Anti-Virus Free – One of the top free antivirus software both in terms of performance and popularity, the AVG Anti-Virus Free does a great job in finding and removing malware. However, it does not perform good when it comes to blocking malware. Works only on Windows.
Comodo Antivirus – The Comodo gets high marks in keeping computer systems free from malware. However, it may find intensive tasks heavy. Works only on Windows.
Malwarebytes' Anti-Malware – If you are looking for a fast-performing antivirus, Malwarebytes is for you. In fact, other antivirus software providers would recommend this apart from their own. Reviews suggest that its free version is more worth it than its Pro version. Works only on Windows.
Microsoft Security Essentials – Microsoft's very own free virus fighter features protection from network-based attacks. It integrates very well with any Windows PC, but many tech experts recommend other programs to protect your system.
Panda Cloud Antivirus – This software keeps your computer free from malware by utilizing a cloud-based signature list of up-to-date viruses. This list does not need to be downloaded to your computer, making the software very light to the hard drive. Works only on Windows.
Tags:
free antivirus
Posted in
Anti-Virus
|
Comments Off

on Best Free Antivirus Software