Written by Ardent Editor on July 21, 2011 – 1:20 pm -
This website is for informational purposes only. This is provided as a service to download old files. There are no support forums; do not email us for support.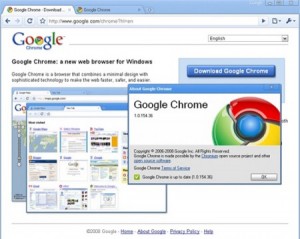 Although most computers have a default web browser like Internet Explorer (for Windows PC) and Safari (for Mac), there are a lot of other browsers that perform just as well, if now better. Here are some of the best web browsers, which you can install for free.
Google Chrome (pictured) – Highly-acclaimed for its outstanding performance, Google Chrome has arguably become the "browser to beat." It features built-in support for Flash, PDFs, extensions, and HTML5. Works on Windows, Mac, and Linux.
Firefox – This browser remains a favorite because of its extensible architecture, as users can install and uninstall plug-ins with ease. Firefox also updates frequently, increasing its performance and usability on every version. Works on multiple platforms, including in mobile devices.
Flock – Because of its integration with Facebook and Twitter, Flock has often been called the "social web browser." Built using Chromium (just like Google Chrome), this browser is now owned by Zynga (the app company behind Farmville). Works on Windows, Mac, and Linux.
Maxthon – Users do not have to worry about not viewing a web page properly because Maxthon uses two rendering engines–Trident, which Internet Explorer uses, and WebKit for Safari and Chrome. It also gets high marks for its fast performance, multi-touch support, integrated ad blocker and RSS reader, and synching of your customized settings with the Android version. Works on Windows and mobile devices.
Microsoft Internet Explorer – Now on its version 9, Internet Explorer remains the world's most popular web browser. It is the most standards compliant among web browsers, although it will still display pages designed for older IE versions. Internet Explorer 9 features a barebones UI, which many say is influenced by Google Chrome. Works only on Windows.
Opera – This browser is one of the few that has a built-in e-mail client. Despite its web standards compliance and blazing speed, Opera's popularity remains wanting. Works on Windows, Mac, Linux, and mobile devices.
Safari – Apple's browser features a reader view to hide page clutter. It also has a built-in RSS feed reader, as well as better support for HTML standards. Works on Mac, mobile devices, and even on Windows.
Tags:
web browser
Posted in
Browsers & Plugins
|
Comments Off

on Best Web Browsers