Written by Ardent Editor on August 12, 2011 – 5:05 pm -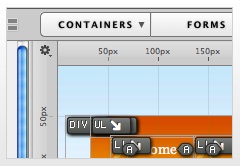 The Escapers Flux 3.0 is a useful MAC software tool for Web designers in creating new Web pages in HTML5. It is an advanced HTML5 Web Design application that can help even those who are not that knowledgeable in HTML to create Web pages. Its features help make it quite easy to use.
What probably makes the Escapers Flux stand out is that it is both usable in HTML or in WYSIWYG mode. Aside from typing in code, users may be able to adjust, drag, stretch or move objects on the page to look exactly how one wants it to look like. Even the size, position and margins can be adjusted with handles on the elements themselves. Flux will generate the code for the user automatically during the adjustments.
Another thing that makes Flux quite useful is that it can load Web pages for editing, even those that were not created using Flux. Experienced designers can also type in code if they wish to. Aside from being able to create Web pages from scratch, Flux also includes a number of Web page templates that users can edit and change to stunning effects if they wish.
The Escapers Flux Ver. 3 requires at least 512 of RAM in order to work. It is designed to work with MAC OS X Leopard or Snow Leopard. This software is available for 70 UK Pounds or around US$114.
Tags:
escapers flux
,
escapers flux ver 3
,
web page developer
,
web page software
Posted in
Developer Tools
|
No Comments »
Leave a Comment