Written by Ardent Editor on August 19, 2011 – 12:52 pm -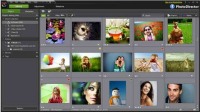 Captured digital images do not always look perfect when they are taken. There are some that might need some adjustments and edits here and there to make them perfect. The CyberLink PhotoDirector photo editing software can be such a tool to make those digital photographs look great.
The CyberLink PhotoDirector is an image editing software that allows photographers to adjust, edit and transform raw photos into enhanced, improved images made better. It is basically designed for use by professional photographers to create stunning conversions out of their RAW photos. The software provides support for a wide range of RAW file formats used by a majority of digital camera brands.
The CyberLink PhotoDirector offers cutting edge image adjustment tools in order to create those perfect photos. It makes use of a fast and intuitive workflow in order to speed up the image editing process from start to finish. It comes with an easy to use image library that features advanced searching, sorting and tagging tools which can be quite useful for managing large batches of photos.
The PhotoDirector also allows users to experiment with settings and adjustments to images in a non-destructive editing environment. Users can move freely and more creatively, knowing that the original image is always kept unaltered. Sharing the photos online also becomes easier as the PhotoDirector allows users to directly sharing their adjusted images to sites like Facebook, Flicker and YouTube. The PhotoDirector 2011 photo editing software is available at CyberLink for US$100.
Tags:
cyberlink photodirector
,
image editing software
,
image software
,
photo director software
,
photo editing software
,
photo editing tool
,
photodirector image editor
Posted in
Photos & Images
|
Comments Off

on CyberLink PhotoDirector 2011