Written by Ardent Editor on August 22, 2011 – 12:39 pm -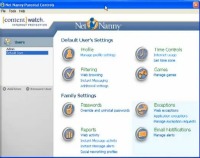 Parents nowadays need to look after the Internet habits of their kids. The Web may not always be child-safe. There might be a need to filter out Internet content on the home PC to make sure that the kids are only able to visit child-friendly sites that block out the unnecessary sites. The Net Nanny Internet Filtering Software can help keep the Web safe for kids and ease out parental concerns.
Net Nanny is an content control software that help provide a means for parents to control and monitor child's computer activity. The Net Nanny offers more than just filter out Internet content on a home PC. It also comes with a host of other features that may help provide parents with the necessary controls when it comes to a kid's home PC use.
Internet Filter
The Net Nanny can filter out unwanted websites that are not good for children. The Net Nanny can be configured in order to block online game and gambling sites, chat rooms, hate sites as well as those that contain pornography.
Profanity Mask
The Net Nanny also features a profanity mask that mask out vulgar and inappropriate words with symbols, preventing kids from viewing them. Many websites may contain forums and comment sections which might contain some unnecessary language sometimes posted by some unruly users. Even some child-friendly sites may accidentally have them at one time or another. The Profanity Mask feature in Net Nanny helps provide a certain level of protection to keep such words out of the child's view.
Bypass Blocking
Some kids may have become a little bit tech savvy that might enable them to bypass some of the parental controls set on the home PC. One of them is using a proxy site to gain access to some of the blocked sites. The Net Nanny also features a Bypass Blocking feature that also blocks proxy sites as well as software that might be installed on the home PC. Net Nanny is considered to be the only Internet filtering software that offers this added level of protection.
Search Monitor
Net Nanny also enables parents to monitor of a user's online search behavior. The Net Nanny can provide parents with a detailed report of each user's Web, video and image searches from all the major search engines.
Other Features
Another useful feature of the Net Nanny is that it allows parents to remotely manage and monitor home PC use. Parents can now set and manage filtering features of the home PC on any Internet connection. The Net Nanny can also be set to limit or control the Internet use of kids. Parents can set up a schedule of when kids may be able to go online and when they cannot.
Net Nanny 6.5
Currently, the Net Nanny has been upgraded to a version 6.5. It may be a very valuable tool for parents in order to help them control and monitor their kid's home PC use with a certain level of safety and protection. The Net Nanny 6.5 is available at the Net Nanny site for US$40.
Tags:
internet filter
,
internet filtering software
,
net nanny
,
net nanny internet filtering software
,
web filter tool
Posted in
Filtering Software
|
Comments Off

on Net Nanny Internet Filtering Software