Written by Ardent Editor on August 26, 2011 – 1:52 pm -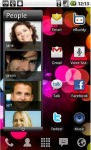 Launcher Pro Plus is a home screen replacement application for the Android phone that aims to provide users with a personalized and even customized sets of home screen to grace their Android phones. While Android phones already come with their stock launchers, the Launcher Pro Plus can replace it and provide enhanced features for better user experience.
The Launcher Pro Plus is an upgrade to the popular Launcher Pro app. Like its predecessor, it offers users to customize and personalize their phone's home screen and design it with what widgets to include. This app allows users to fill up up to seven different home screens that they can scroll easily to view. Each home screen can be used to organize widgets and other apps according to their use and function.
In the Launcher Pro Plus, its designer, Fede Carnales from Argentina, is adding up several other useful widgets that users can use. The new upgrade will be featuring a People Widget to allow users to access favorite contacts quicker. There is also an upcoming Bookmarks Widget to access browser bookmarks the Agenda Widget which will allow users to browse the calendar and view any agenda for a particular date right in the widget.
The Launcher Pro Plus does provide a more convenient option for Android phone users to go over and organize their home screen according to how they want it to look. This app works with most stock Android phones and functions even faster and smoother than the Android phone's own stock launcher. While the Launcher Pro Plus is available for download via the Launcher Pro site for US$2.99.
Tags:
android app
,
android phone launcher
,
android smartphones
,
launcher pro plus
,
launcher pro plus app
,
launcher pro plus for android
Posted in
Apps
|
Comments Off

on Launcher Pro Plus For Android