Written by Ardent Editor on August 26, 2011 – 1:56 pm -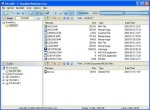 No matter how large the storage capacity of your PC hard disks may be, they eventually can become full and low down your computer. Your options will be either to delete some of those bulky files to make way for new ones or buy a new hard drive altogether. But if you choose to delete some of those previous files, it might be wise to come up with back-up copies recorded in CD or DVD. This can be made possible by using a software like the UltraISO PE.
The UltraISO PE is a CD and DVD Image making software that allows users to transfer files and make copies of it into CD and DVD. It can create as well as edit and convert an ISO file. The latest version of this software is the UltraISO PE 9.36. Aside from enabling users to create a CD or DVD image in ISO format, it also supports other CD/DVD file formats like .BIN, .IMG, .CIF, .NRG, .MDS, .CCD, .BWI, .ISZ, .DMG, .DAA, .UIF, .HFS and many more. UltraISO PE can even edit and convert this file formats into the standard and more commonly used ISO image.
The UltraISO PE also optimizes the ISO image automatically, allowing it to save more disk space. The new software now supports 25GB and 50GB CD/DVD media type. The UltraISO PE is developed by EZB Systems. It is available for free trial download at the EZB Systems. To use it even further after the trial period, users can pay US$30 to get the registration links to activate it. A CD package of the software is also available, starting at US$40.
Tags:
cd image making software
,
dvd image making software
,
image making software
,
iso image
,
iso image software
,
ultraiso pe
,
ultraiso pe cd dvd image software
Posted in
Data Backup
|
Comments Off

on UltraISO PE CD/DVD Image Software