Written by Ardent Editor on September 17, 2011 – 2:21 am -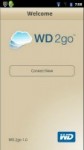 Western Digital has recently introduced its WD2go and WD2go Pro mobile apps to go with its MyBook Live personal cloud. This allows mobile users to access their personal cloud through their MyBook Live drive from their smartphones or tablets. This makes the personal cloud storage solution even more versatile this time.
The MyBook Live is Western Digital's personal cloud solution that is a Network Attached Storage or NAS drive connected to a home network. Access can be possible by going through www.WD2go.com or, more conveniently, via the WD2go and the WD2go Pro mobile apps. This app is available for Apple iDevices as well as the Android mobile.
The WD2go app allows users to clip files, photos, songs, videos and almost any type of file for download into a connected mobile device from the MyBook Live drive. Access through the drive is even possible without an Internet connection.
The WD2go Pro app also provides additional features like private sharing of selected files with a chosen group of friends, colleagues or family members. It also provides an automatic sync of new or modified files to keep it updated. Additional security is offered with a 4-digit passcode for locking mobile access into the MyBook Live drive. Content sharing is made possible to users as a form of email, sharing files as a link or opening files using third party apps. The WD2go is available for free download while the WD2go Pro with its advanced features is available for download at iTunes and the Android Market for US$3. The MyBook Live drive is sold separately.
Tags:
mybook live
,
personal cloud
,
personal cloud storage
,
wd2go app
,
wd2go mobile app
,
wd2go pro
,
western digital
,
western digital mybook live
Posted in
Apps
|
No Comments »
Leave a Comment