Written by Ardent Editor on September 23, 2011 – 11:23 am -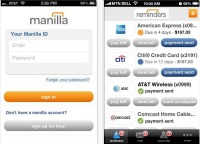 It is important for people to take control of their finances. For most of them, it is not the task itself that's the problem. It is finding the time to do so that is the issue for a lot of people, not to mention making use of the right system. Effective management of one's finances need not be that complicated with apps available like Manilla for mobile phones.
When time and the right system is the problem for people not being able to manage their finances effectively, the Manilla app will provide an easy solution. This app can be downloaded into an iOS or Android smartphone and provides quite a number of ways to monitor and keep track of your finances. This apps tries to keep it simple and easy for the mobile user to do so.
At the most basic, mobile users can use the Manilla app to keep track of their multiple bank accounts. Users can check out their bank account balances in one go without having to log in onto multiple bank websites separately to do so. Another useful feature of the Manilla app is that it allows you to keep track of your monthly bills, reminding you when one is due for payment and which ones are marked as already paid for.
The Manilla app is such a simple tool to help provide mobile users with a convenient means to keep track of their most important finances. The fact that this app is available at the Apple App Store and the Android Market for free makes it worth checking out. It might just be the convenient tool that you are looking for to make life a bit easier for yourself.
Tags:
finance management app
,
finance tool
,
financial management
,
manilla app for mobile phones
,
manilla finance management app
,
mobile app
Posted in
Apps
|
Comments Off

on Manilla Finance Management App