Written by Ardent Editor on September 24, 2011 – 2:12 am -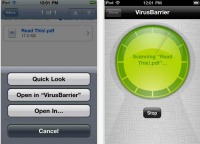 The popularity of the Apple iPhone and the iPad may also bring about a certain amount of risk when it comes to file protection against malware and viruses. With the integration of such devices with a desktop or notebook, they can easily become the means for infected files to spread and do their damage to more and more computer systems. In order to provide some level of defense and protection the VirusBarrier for the iPhone is now available.
The VirusBarrier provides iPhone users with the means to keep files clean and virus free before they are shared with other computing devices. While there is yet no malware found that can affect iOS devices, such files that may be "harmless" may cause trouble when shared with the computer systems and devices. The VirusBarrier provides you with a means to scan email attachments, remote location files and such for malware and virus threats.
The VirusBarrier app makes use of an award winning scanning technology that can detect and dispose of known malware, viruses worms, trojans and fake antivirus tools to keep you safe from spreading them. The VirusBarrier for iPhone is available at iTunes for US$2.99.
Tags:
apple iphone app
,
iphone app
,
malware scanner
,
virus scanner for iphone
,
virusbarrier for iphone
Posted in
Anti-Virus
|
No Comments »
Leave a Comment