Written by Ardent Editor on October 28, 2011 – 3:09 pm -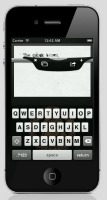 It is not always true that all people want their devices to be perfect all the time. It might be strange for some, but there can be that level of appeal for some things that are not always known to be accurate, precise or logical. You can sometimes even call it a touch of nostalgia. And that is exactly what an iPhone app like the Amazing Type Writer tries to offer.
The Amazing Type Writer App for iPhone gives users a trip back into a time where mechanical typewriters were still the norm. It uses an interface that copies just how an old typewriter operates, including the use of a ribbon and the sounds it makes when every key is pressed. And to even make the experience more realistic, the app does not have an erase or undo feature, making each letter typed a permanent fixture. The only way to correct is by going over and over a mistake until the right letter is more visible, exactly like a manual typewriter.
The Amazing Typewriter app is especially not the iPhone app for those who relish fast and accurate typing. On the contrary, this app should be considered simply as a fun and unique way to type, an integration of today's technology with an ancient one that has already disappeared a long, long time ago. One may consider it best as a nostalgic app, a fun means to experience some blast from the past. This fun app is developed by Doormouse Manufacturing and is available at the Apple App Store for download at US$2.
Image Source: Doormouse Mfg.
Tags:
amazing type writer app
,
amazing type writer app for iphone
,
app store
,
iphone app
,
iphone appamazing type writer
,
mechanical typewriter app
Posted in
Apps
|
Comments Off

on The Amazing Type Writer App for iPhone