Written by Ardent Editor on December 2, 2011 – 9:54 am -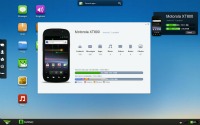 Smartphones today really have almost the same features found in conventional PC's. But there are also certain limitations to what they can do that typical PC's can do better. Having a larger screen and display real estate is one thing. It makes working on some things more convenient. And if you wish to have such convenience available for your smartphone, you can always have the AirDroid App for Android smartphones to allow you to do that.
The AirDroid app is a tool that you can use to help you manage and control your Android device over a Web browser wirelessly. This means that you can have control over your Android device through a PC or laptop when you are within a WiFi network. Users may be able to manage and control their Android devices via a Web browser. They can manage their music files, smartphone applications, photos and other tasks through a Web browser on your computer.
What makes the AirDroid also a convenient app to use is that it allows Android device users to receive and send SMS messages through the browser. Users can also install apps, files and check on the phones resources via the browser. The AirDroid App for Android is available for free download at the Android Marketplace.
Tags:
airdroid android app
,
airdroid app for android
,
airdroid desktop browser
,
android smartphones
,
desktop control
Posted in
Apps
|
No Comments »
Leave a Comment