Written by Ardent Editor on December 16, 2011 – 4:57 pm -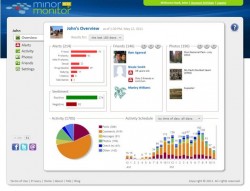 With the advent of social networks, it is now possible for people to reach out to others even if they have the whole world in between them. It makes interacting with other people easier. But with the many advantages it comes with, this new form of online interaction can also come with serous risks. In the case of a child, social networks may be a means for them to be placed in a relatively dangerous online open ground where they can interact with offending human elements that parents may dread their children to come into contact with.
That is why in this day and age of the social networks, parents need to keep track of what their kids are doing while online. They can use a useful online tool called Minor Monitor, a website that helps parents keep a close watch of their kid's online activity. The Minor Monitor is a Web-based child monitoring service that specifically help monitor what a child may be doing while logged into Facebook.
While other child monitoring services help keep track of a child's online activity or block certain sites not suitable for kids on the computer, the Minor Monitor keeps a close watch of what a child may actually be doing while using Facebook. It requires parents to create a Minor Monitor account and also enter their child's Facebook email address and password.
What Minor Monitor essentially does is scan Facebook's Newsfeed and Wall to determine dangerous and questionable content that a child may be accessing. It also monitors the content of messages as well as the uploading of photos which parents can review and even disapprove. It also comes with certain filters that can help protect children from inappropriate content that may come from online child predators.
The Minor Monitor can be a useful tool for parents who wish to monitor how their child behaves when getting into social networks like Facebook. It is free for parents to use and only needs a sign up in order to use this child monitoring service. It is small effort for parents to do in order to ensure the safety of their children by being able to protect them from common online threats and the danger that may lurk on the Web.
Tags:
child monitoring
,
child monitoring service
,
child predators
,
child security
,
minor monitor
,
minor monitor online
,
minor monitor online child security
,
online child monitoring service
,
online security
,
social networks
Posted in
Filtering Software
|
Comments Off

on Minor Monitor Online Child Security