Written by Ardent Editor on September 28, 2012 – 8:53 pm -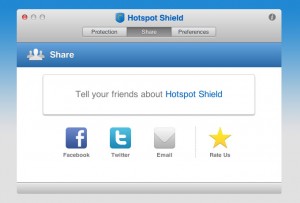 With the threat of malware now increasing, almost every computing device without ample protection has that risk of getting infected. Some infections come by way of public WiFi hotspots where any computer can easily connect to go online. And because it is public, many people usually connect without any protection from the threats that are out there. The threats are now even affecting those otherwise safe Mac PC's and laptops. That is why there is now a software product like the Hotspot Shield For Mac to provide a higher level of protection against online threats.
The Hotspot Shield For Mac helps provide a higher level of protection for Mac users when they frequently use Public WiFi for their devices. It is a security software that can protect Mac devices from more than 3.5 million malware threats out there. It also helps in making Mac's secure when connected to public WiFi hotspots. The security tool encrypts traffic that comes in and out of the Mac, making it harder for hackers and other online threats to access files and the device itself to wreck havoc.
Hotspot Shield also provides a secure VPN service that ensures Mac users remain protected identity-wise. When  installed in a computer, turning it on will enable Mac users to be thoroughly protected from threats over a public WiFi network. Its VPN provides user with the means to keep their identities secure and anonymous. Encrypted signals over the Web make man in the middle attacks on the Mac virtually impossible. And for added protection, it turns all HTTP traffic into the more secure HTTPS. The hotspot Shield for Mac comes with a free ad supported version. There's also the Hotspot Shield Elite for Mac that comes with a monthly and yearly service charge in order to use on a continuous basis.
Tags:
hotspot protection for mac
,
hotspot shield
,
hotspot shield elite
,
hotspot shield for mac
,
online threats
,
public hotspot threats
,
wifi hotspot protection
,
wifi hotspots
Posted in
Anti-Virus
|
Comments Off

on Hotspot Shield For Mac