Written by Ardent Editor on October 3, 2012 – 7:27 pm -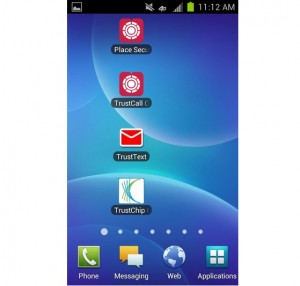 Communications today has become quite easy and convenient. People now rely on smartphones in order to make calls or send text messages. But in cases where sensitive information is being shared, security is not always that dependable. For those who share sensitive information through their mobile phones, a security solution like Koolspan TrustCall may be required.
The Koolspan TrustCall is a mobile encryption application solution. It transforms regular smartphones into secure phones for companies who require them for their people. The TrustCall system includes the TrustCall mobile app, the TrustCall chip and a TrustRelay server. This system ensures that calls and text messages are encrypted and secure when used to contact other phones using the same system. KoolSpan TrustCall uses military-grade voice encryption. It is also able to encrypt text messages so that they remain safe and secure when sent from one secure phone to another. The KoolSpan TrustCall is an important piece of mobile application and system for organizations that rely on sending sensitive and confidential information over mobile networks. It is also a more cost effective measure since it can be used on regular smartphones. Using Koolspan TrustCall requires a $119 activation fee per phone along with a $44 monthly fee for TrustCall and TrustText.
Tags:
koolspan trustcall
,
koolspan trusttext
,
mobile call security
,
mobile encryption
,
mobile encryption application
,
mobile security
Posted in
Business Software
|
Comments Off

on Koolspan TrustCall