Written by Ardent Editor on October 19, 2012 – 8:45 pm -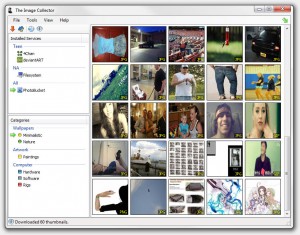 Getting information from the Web can be quite challenging, considering the volume of data that you have to go through. In the case of obtaining images from the Web, you might need a capable software program to source them out from a certain website or two and then choose from the hundreds. The Image Collector is one such software that might help.
The Image Collector is a useful application that allows its users to conveniently and more efficiently find and locate images from a wide range of Web services. It can help provide a quick view of the latest available images on display and provide users with thumbnails to view in a scrollable grid. It allows users to categorize the images before downloading.
The Image Collector or TIC is designed for providing a higher level of quality to your image downloads. It is not designed for bulk downloading where even images that you would find useless and of little value would find itself in your stockpile of images. The Image Collector also allows a more efficient way of collecting images while categorizing them. Users of the application need not wait for one image to be downloaded before proceeding to the next. The Image Collector puts chosen images for download on queue as you proceed to choosing the next one. The Image Collector is a freeware and you can download it at its website.
Image Source: The Image Collector
Tags:
image collector
,
image collector application
,
image collector freeware
,
image sourcing
,
software application
Posted in
Photos & Images
|
Comments Off

on The Image Collector