Written by Ardent Editor on October 25, 2012 – 7:55 pm -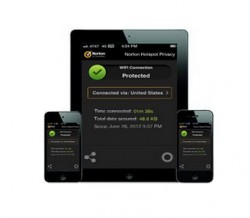 There are now quite a number of risks available when it comes to going online. It may even become worse when connecting to an unsecured wireless network or a public WiFi hotspot. You put yourself into a higher level of risk every time you connect to a public WiFi hotspot to go online. You may unknowingly be putting your private personal information or your online activities out there for some online crooks to obtain. The next time you wish to access on an unsecured public WiFi network and still remain secure and your personal data protected, then you might need the Norton Hotspot Privacy.
The Norton Hotspot Privacy is a useful personal VPN service that allows users to maintain a more secure profile while connected to a public WiFi hotspot. Norton Hotspot Privacy works by getting in the middle of the user and the WiFi hotspot in order to provide a protective shell around the user when it comes to securing sensitive personal information as well as knowing about their browsing habits.
The Norton Hotspot Privacy hides the user's IP address so that other prying eyes online may not be able to locate the protected PC when connected to a WiFi hotspot. It also provides encryption features on content that goes in and out of the protected PC, making the data virtually useless without the available encryption key. The Norton Hotspot Privacy is a simple yet valuable VPN service that people can use for protection against hijacked information and data. The service is available for both the desktop and portable devices. It also supports Windows, Android and iOS devices as well. Availing of the service   requires yearly or monthly charges at US$50 and US$20, respectively to maintain a constant level of protection. But for those who require some quick protection when connecting to a public WiFi hotspot in the airport or a coffee shop, there is also a day pass available for US$3. It is also applicable for use for up to 5 devices at a time.
Image Source: Norton
Tags:
hotspot privacy
,
norton hotspot privacy
,
norton vpn service
,
public wifi
,
vpn service
,
wifi hotspot
,
wifi risks
Posted in
Filtering Software
|
Comments Off

on Norton Hotspot Privacy