Written by Ardent Editor on November 15, 2012 – 8:21 pm -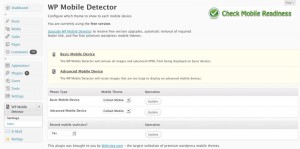 For many websites nowadays, transitioning into the world of mobile devices can either be a challenge or it can be easy. But the important thing is that websites nowadays need to offer a mobile Web presence to their visitors if ever they wish to get more online visitors. In addition, since more and more people are doing more and more of their online stuff right out of their smartphones and tablets for convenience's sake, having a mobile version of the standard website becomes more of a necessity than ever. For those who maintain a WordPress website, using the WP Mobile Detector WordPress plugin will help resolve the problem.
The WP Mobile Detector WordPress plugin automatically detects if a site visitor is using a basic mobile phone or a smartphone and then loads up one of the compatible WordPress mobile theme of the website for the detected device. It can detect over 5,000 mobile phones and comes with an installer that automatically configures everything. The plugin also includes seven advanced mobile themes that feature the jQuery framework. This ensures that website owners have a number of options available when it comes to choosing the mobile theme that offers the features that they want while using WP Mobile Detector. Its other features also include advanced mobile statistics features, content formatting, and image resizing.
The WP Mobile Detector plugin requires at least WordPress2.7 or higher in order to work and is compatible for up to WordPress ver. 3.4.2. This plugin is available for download at WordPress.
Tags:
mobile version sites
,
mobile websites
,
smartphone browsing
,
wordpress apps
,
wp mobile detector
,
wp mobile detector for wordpress
Posted in
Browsers & Plugins
|
Comments Off

on WP Mobile Detector