Written by Ardent Editor on December 24, 2012 – 2:38 am -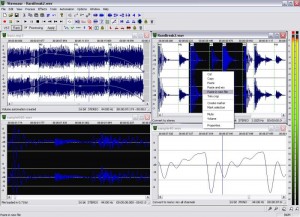 Some people would like to edit some part of audio recording to either make it sound clearer or provide certain effects to it. But most of these audio editors can be quite heavy on the computer and may have considerably large file sizes. Some would prefer having a portable software to edit audio from small sound bytes to full length audio files. A good and portable audio editing tool to have is the Wavosaur Audio Editor.
The Wavosaur Audio Editor is a portable audio editor that can do quite a number of audio editing functions. The Wavosaur provides all the classic editing functions found in many other audio editing tools out there. It also offers a wide range of processing options that make audio editing even more convenient when doing multiple projects at once. It makes use of software plugins for FX using VST or Virtual Studio Technology. This allows the program to come in a very small file footprint at only 225KB. It has most of the features that one may look for in a portable audio editor but comes in a very small package that won't take a lot of hard disk space like other audio editing software out there. Another thing worth mentioning is that the Wavosaur Audio Editor is free to download, meaning people need not have the obligation to pay for using such a useful audio editing tool. You can check it out further at the Wavosaur site to see what it can do.
Image Source: Wavosaur
Tags:
audio editing tool
,
audio editor
,
portable audio editing tool
,
portable audio editor
,
wavosaur audio editor
,
wavosaur editing fuctions
Posted in
Music & Video
|
No Comments »
Leave a Comment