Written by Ardent Editor on April 5, 2013 – 6:50 pm -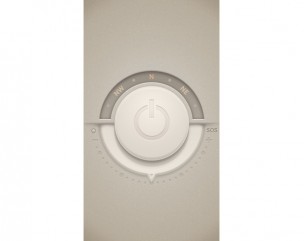 Many iPhone apps have been developed lately to complement the many features of the smartphone. Some of them try to take advantage of the smartphone's other features and design them for other uses. Take the smartphone's LED flash for example. Although it is designed as a camera flash, there are other apps that make it function as a flashlight. In fact, there are now several iPhone apps that work like this. But the HLP Flashlight iOS app adds other features as well.
The HLP Flashlight iOS app comes with a simple and yet attractive screen interface. It is designed with a circular indicator with a large power button in the middle that turns on the LED camera flash for use as a flashlight. An outer bottom half circle comes with a control of the LED's light pulse. Sliding the dial to a certain point changes the speed of the light pulse. Sliding the dial at the end makes it pulse as an SOS signal, to use for emergencies. The upper half circle comes with a compass indicator to help users find the right directions during such emergencies if the need for it arises. The HLP Flashlight iOS app is available at the Apple App Store for free download.
Image Source: App Store
Tags:
ios app
Posted in
Apps
|
No Comments »
Leave a Comment