Written by Ardent Editor on July 19, 2013 – 1:18 am -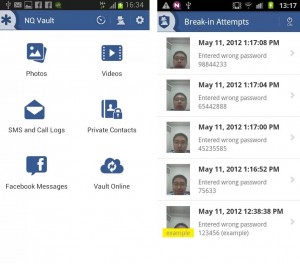 Smartphones and tablets have become the primary devices people use for communication and entertainment. Having it handy makes them convenient devices to use for going online, interact with others and even download or share content. The same convenience also puts them at risk. You can easily lose or misplace your smartphone or tablet. If you have quite a lot of sensitive information stored in them, then you might be in big trouble. If you have an Android device, the NQ Mobile Vault app can help provide a higher level of privacy over the content you have on it.
The NQ Mobile Vault is a useful security app for Android devices that will help protect whatever sensitive and private content you have on them. You now have a way to store those sensitive SMS messages, photos, videos and other files safely in a private and secure folder on your device where prying eyes cannot access them if they do not know the password. It is a secure way of protecting your privacy by securing the files on your smartphone or tablet. Many features come with this useful Android security app.
The NQ Mobile Vault can help protect information such as the data on your Contacts as well as SMS messages and call logs. The app offers users the option to mark a selection of their contact list as "Private". This will then cause the selected contacts to disappear from the Contacts list on your phone. Your SMS messages from the said contact will be encrypted and incoming alerts for calls and text messages will be suppressed. The app also provides photos and video protection by converting into encrypted files, which users can only access if they know the Vault password. Using the Vault Camera feature, smartphone owners can secure any photo or video taken with the device camera by sending it automatically to Vault's password protected album. The NQ Mobile Vault Android app is a very useful tool for providing a higher level of security and privacy to what you have on your smartphone or tablet. This Android app is available for free download at Google Play.
Tags:
android app
,
nq mobile vault
,
protected content
,
protected files
,
secure smartphone files
,
security app
,
smartphone app
Posted in
Apps
|
Comments Off

on NQ Mobile Vault Android App