Written by Ardent Editor on August 14, 2013 – 11:42 pm -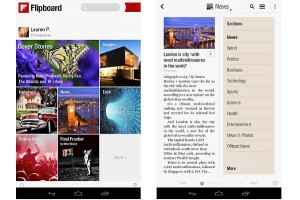 The smartphone or tablet has become the primary source of information for people today. Simply connecting online using their portable device of choice and they can access as much information that they want. But the thing is, people can get overwhelmed with too much information. There need to be some kind of organization in order for users to make sense of the information that they get online. The Flipboard News Magazine Android App can do that for your daily dose of news.
The Flipboard Android App is a useful application that can help you organize the news articles that you read online. This app is also a social network integrator that allows you to keep connected to your favorite social network while you use the app. Many of the Flipboard aim to make your daily news reading more convenient and organized.
The Flipboard Android App allows you to choose certain topics that you care about reading every day. The app then gathers news related to the topic chosen and provides it for you for easy reading. You can go through the information by flipping through the pages, just like what you always do when reading a magazine.
Connected with your favorite social network, Flipboard can also keep you updated with posts from your online friends on Facebook, Twitter and other popular social networks. In the same way, it also helps you to share information that you got from Flipboard to your online friends. You can connect up to 12 social networks with Flipboard so that you can streamline your activities such as reading the news, commenting and sharing photos or other post using only a single app.
Flipboard also allows you to create their own magazine based on the topics that you like to read. You can also save articles to read for later using Instapaper. The app also comes with Cover Stories, a custom tile that gives you a collection of articles, photos and other news in topics that you like to follow. You can also create a Flipboard account so that you can access your favorite content and social networks using a different device. The Flipboard News Magazine App for Android is available at Google Play for free download.
Image Source: Google Play
Tags:
android app
,
flipboard app
,
google play
,
news magazine
,
news magazine app
Posted in
Apps
|
Comments Off

on Flipboard News Magazine Android App