Written by Ardent Editor on November 15, 2013 – 6:34 pm -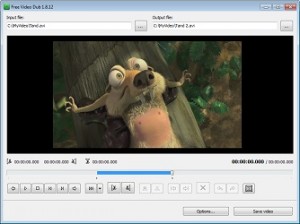 Video editing may seem like a complicated skill to develop. But actually, it is not. Digital video editing is no longer reserved for savvy professionals. Thanks to software like the Free Video Dub, it is easier to edit videos in the simplest way possible.
The Free Video Dub video editing program from DVDVideoSoft is designed for people who simply want to remove unwanted sections of their recorded videos to come up with a better version. Sometimes, that is the only feature that many people need. It comes with a basic interface and with no other menu to complicate matters. This basic video editor supports MPG, MOV, MP4, FLV, MKV, 3GP and AVI along with other video formats.
Using the Free Video Dub is very easy. All you need to do is open the video using the software, set a start and end point that you wish to trim from the video and the hit the delete button. You then press the Save video button and the trimmed video is saved as a new video file.
What makes the Free Video Dub convenient for simple video editing is that it deletes the unwanted parts without the need for re-encoding the video files. This preserves the quality of the original video file while removing the unwanted parts quickly and hassle-free. What's more, Free Video Dub is free to download for those who are looking for a simple video trimming software for editing personal video files. But since it is a freeware, downloading may come with bundled third-party software and toolbar that comes with the installation. But you are given the chance to opt out of these third-party installations. So you need to pay a little more attention during the setup to avoid installing the third-party apps.
Tags:
video editing
,
video editing software
,
video files
,
video trimming
Posted in
Music & Video
|
No Comments »
Leave a Comment