Written by Ardent Editor on January 31, 2014 – 4:21 pm -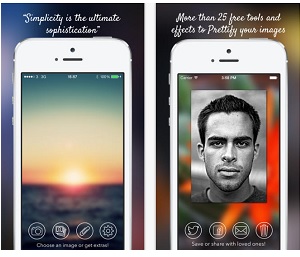 Selfies have become a byword among today's youth. It is all because of the smartphone. Taking pictures using the iPhone has become easy. People now prefer it to using digital cameras for the added convenience. But aside from taking selfies and pictures, sharing it online has also become an integral part of the process. For most people, they would want to make little edits on the images they took before sharing it online. This Prettify iPhone app may provide the convenient and easy means to do so.
The Prettify iPhone app is a photo editor that offers a quick and simple way for iPhone users to edit photos before sharing them online. Most people really do need to make some edits on their pictures to make them even better. There are instant fix and enhancement features such as Hi-Def, Illuminate and Color Fix to quickly provide fixes for your photos. There is also a convenient crop tool as well as image flip and rotate features. There are over 25 editing tools and several filters available with the app that can help make any mediocre photo into great-looking images without sweating it out. The Prettify iPhone app is designed to make photo editing on your iPhone simple and easy. All it does is to help you "prettify" your photos before sharing it with friends and family. The Prettify iPhone app is available for free download at Apple iTunes.
Tags:
iphone app
,
iphone photo editor
,
photo editor
,
prettify iphone app
Posted in
Apps
|
Comments Off

on Prettify iPhone App