Written by Ardent Editor on February 8, 2014 – 4:43 pm -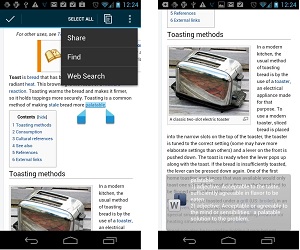 People now seem to do almost everything on their smartphones or tablets. From reading, making purchases, and creating messages, mobile devices make it possible to do all these in a convenient manner. It also helps to have tools that will make these tasks easier. Take, for example, trying to get the meaning of a particular word. In the old days, you can always open your dictionary. For Android device users, they can always have the WordLookup Android app to download.
The WordLookup Android app is a convenient online pop-up dictionary for Android devices. It allows users to easily look up into the meaning of unfamiliar words while surfing the Web, using another app or by reading messages or stories online. Using the WordLookup Android app is simple- just choose the unfamiliar word by highlighting it, press the share button of your Android device to access the WordLookup shortcut. In a few seconds, a pop-up will appear at the bottom of the screen that contains the meaning of the highlighted word.
The WordLookup app also features the text to speech option that will provide the right pronunciation of the word as well as hearing its definition. But before you use WordLookup, it is important to note that it requires online connectivity in order to work. It fetches the word definitions from the Web and provided for you in a more convenient manner. The WordLookup Android app is available for free download at Google Play.
Image Source: Google Play
Tags:
android app
,
dictionary for android devices
,
online dictionary
,
word lookup
Posted in
Apps
|
Comments Off

on WordLookup Android App