Written by Ardent Editor on March 14, 2014 – 10:09 am -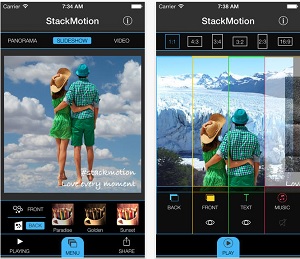 Creating stunning photos is now no longer limited to having the best camera and the best settings for the shot. Photo editing software can help make them perfect by taking care of the flaws or making the appropriate corrections to the photos. Even photo editing apps for smartphones have become powerful tools for making one-of-a-kind photos. The Stack Motion iOS app is one good example.
The StackMotion iOS app is a unique photo editing application that comes with an interesting feature- it allows users to superimpose chosen photo elements into another photo. The StackMotion iOS app is built around state-of-the-art image recognition technology that allows users to easily separate a chosen subject in a photo and cut it out to place on a different background for effect. Users of StackMotion will have an easier time isolating an element in any photo since the app can auto-detect the edges of a chosen subject. It is all in the use of the fingers.
One the chosen subject has been isolated, it can be placed on different backgrounds and other photos. It can even be added into videos, music or a slideshow for unique effects. The image recognition feature helps make masking objects easier and more convenient. Users can also zoom in the chosen image to further refine the image cut by erasing the unwanted elements. StackMotion also makes it easier for users to share their finished design via Instagram, Facebook, Youtube, Tumblr and other social media sites. The StackMotion iOS App is available at the App Store for a $2 download.
Tags:
ios app
,
ipad app
,
iphone app
,
photo editing app
,
stackmotion app
Posted in
Apps
|
Comments Off

on StackMotion iOS App