Written by Ardent Editor on March 21, 2014 – 6:20 pm -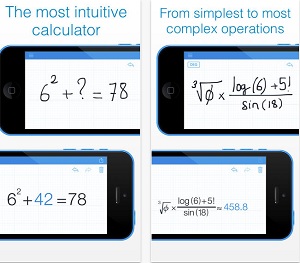 For people who crunch numbers as part of their work, calculators become a handy tool most of the time. It does help in computing for basic math equations. But there are certain limits to what a calculator can do. For one, it cannot help solving formulas or complex math problems. And if you use a calculator, you always have to break down formulas into their basic equations. For those with iOS devices, it is good to know that there is the MyScript Calculator app to provide an alternative and most welcome means to solve mathematical equations.
The MyScript Calculator is a unique app for iOS devices that many people find useful. It is a calculator that can help you solve equations and mathematical operations using your handwriting. Instead of pushing buttons, you write down the mathematical expressions in the most natural way you know how.  The MyScript technology then converts the written numbers and symbols into digital text and gives you the results in real time. By using the MyScript Calculator, it is just like performing mathematical operations by hand but without having to solve them on your own.
This MyScript Calculator app can perform the basic arithmetic operations and recognizes powers, roots and exponentials.  It can also solve for percentage as well as other miscellaneous operations. It can also recognize algebraic equations as well as trigonometric functions, logarithms and constants. This iOS app is available at the App Store for free download. It is a useful tool for people who always do number crunching operations on a daily basis.
Tags:
ios app
,
my script
,
mycript calculator
Posted in
Apps
|
Comments Off

on MyScript Calculator iOS App