Written by Ardent Editor on March 30, 2014 – 6:12 am -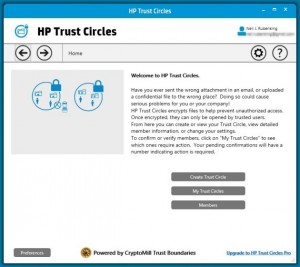 In this digital day and age, information has become a valuable commodity. There is now this great need to protect and secure sensitive information or data. As information increasingly becomes valuable, the risks also increase. There are now many ways sensitive date can be stolen, shared by accident or get into the wrong hands. The challenge is on how protect data, especially those sent and received over the Web. This is where HP Trust Circles come in.
The HP Trust Circles is an encryption tool that helps you protect your sensitive data from prying eyes. Users can create circles of members allowed to view the file. If they become part of your circle, they can view the protected file transparently and even edit it while those outside of the circle will see it as gibberish.
HP Trust Circles can encrypt files in your USB drive or even your emails. For the latter, the application might require access to your email client's log in credentials. You might also need to give the application your SMTP server address. Once done, it can protect your emails that only those in your trust circles can see whenever you send them out.
What makes the HP Trust Circles also convenient is that the encryption is passed on every time a protected file is shared. Every copy made also comes encrypted. The HP Trust Circles is an essential toll for people who require added protection for files and emails they sent out on a daily basis. Interested users can try out by downloading the free edition, which allows users to create one trust circle with a maximum of five members. Paid versions of the application feature creating additional to unlimited number of trust circles.
Tags:
encrypted file
,
encryption tool
,
protected file
,
trust circle
Posted in
Business Software
|
Comments Off

on HP Trust Circles