Written by Ardent Editor on April 5, 2014 – 2:21 pm -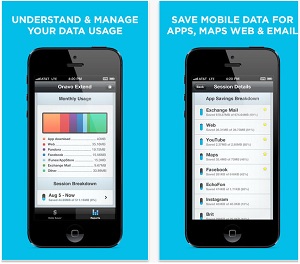 When you go online using a 3G or LTE network via your mobile phone, chances are you might be using an additional service that will be charged into your mobile phone bill. Data usage has become more and more valuable for smartphone users who go online using LTE or 3G in the absence of a Wi-Fi connection. You need to conserve your data usage to ensure that you get the most bang for your buck, so to speak. The Onavo Extend Data Compression app can become quite useful in this regard.
If you wish to conserve your data usage on your smartphone or other portable device using a 3G or LTE network to connect to the Web, the Onavo Extend will be your best friend. This app compresses data that you use when you are online but not connected to Wi-Fi. It helps reduce your data usage that shows on your data usage plan. This means you pay less when your phone bill arrives. The Onavo Extend works automatically in the background so that you will not have any inconvenience using it.
This app compresses data by routing all your Internet-related activities through its servers, where the data is already compressed before sending it to your phone or tablet. This server-side data compression allows for a reduction of the total amount of data transmitted. The app works across other different apps when you go online. The only usage that it cannot compress is when you use video streaming or making VoIP calls on your device.
The Onavo Extend app is especially useful if you frequently travel and may need to resort to costly 3G or LTE service to go online. This app will work in both cases to reduce your data usage. This useful data compression app is available for free download at the App Store. There is also an Onavo Extend for Android available for free download at Google Play.
Tags:
data compression
,
data compression tool
,
ios app
,
onavo extend
Posted in
Apps
|
No Comments »
Leave a Comment