Written by Ardent Editor on April 5, 2014 – 2:07 pm -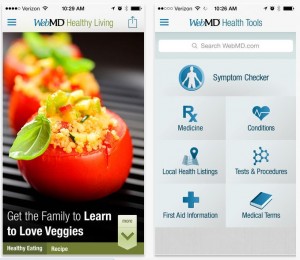 Smartphones and tablets have become the predominant devices people use nowadays. They serve as the primary means for people to get online information. They even have replaced desktops and laptops as the preferred means of accessing the Web for most people today. It is because of this that apps have become valuable tools people use for just about anything nowadays. When it comes to gathering health-related information, there is the WebMD app for iOS devices.
The WebMD app is a valuable tool for the health-conscious individual. It provides a wealth of healthy living information as well as professionally reviewed health content and interactive tools. Users can gain insightful knowledge regarding their health by using the app. Its key features include Healthy Living, which contains a rich collection of articles, facts and tips regarding health and healthy living. Users can customize the content they receive based on their healthy living interests. There is also the WebMD Symptom Checker, which helps provide users with potential conditions and issues they may have by selecting which part of the body is affected and the symptoms felt. There is also an extensive database of information on drugs, supplements and vitamins that users can access via the WebMD app.
The First Aid Essentials provide users with a handy guide on how to handle a number of medical emergencies, from insect bites to fractured bones. It also comes with a directory of medical personnel, hospitals and pharmacies that is based on your current location. Users can also search by city, state or zip code to locate a nearby medical facility, clinic and other similar establishments. The WebMD iOS app is a handy and valuable tool to have. It is available at the App Store for free download.
Tags:
health app
,
health information app
,
ios app
,
webmd app
Posted in
Apps
|
Comments Off

on WebMD iOS App