Written by Ardent Editor on April 25, 2014 – 4:53 pm -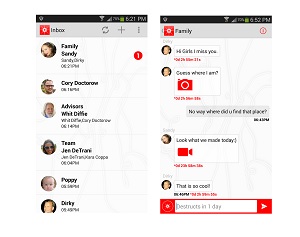 In today's connected world, security and privacy have become valuable intangible commodities. While the connected world allowed better communication, it did so by sacrificing people's privacy. But there are ways people can stay secure and enjoy a certain level of privacy, thanks to technology. When it comes to text messaging, some people prefer not leaving a paper trail of their previous messages to friends or colleagues. For Android phone users who need this feature, the Wickr Secure Messaging service will be quite a useful tool.
The Wickr Secure Messaging Android app allows users to send out encrypted messages and files without leaving a trail or record. It is unique among other more popular messaging apps since it can erase messages sent and received through the service. This feature provides users with a higher level of privacy especially when sending out sensitive or highly private messages.
Wickr functions just like most other messaging apps, with the added feature of military-grade message encryption and the option of erasing messages sent after a certain time period. Users can configure to delete messages sent from three seconds to six days. Wickr then automatically deletes and overwrites the messages to prevent even most digital processes from retrieving the messages. When a message is sent through Wickr, the countdown starts when the recipient taps to read the message. Aside from text, users can also send out photos as well as 30 seconds worth of audio or video files. And yes, senders can also configure the multi-media messages for deletion after a certain period of time. Unread messages are deleted and overwritten automatically.
Using Wickr requires users log in details as well as a phone number. You can be rest assured that your log in details and information for the service is safe since it does not store any of the user's personal information. Sending a message to a non-user of the service will prompt a message or invitation to join in on Wickr. This messaging app is ideal for those who value their privacy as well as their security. It may not be a messaging app for those who like to keep text, photo or multi-media messages sent and received for posterity. The Wickr Secure Messaging app for Android is available for free download at Google Play.
Tags:
wickr android app
,
wickr for android
,
wickr secure messaging app
,
wickr secure messaging service
Posted in
Apps
|
Comments Off

on Wickr Secure Messaging Android App