Written by Ardent Editor on April 25, 2014 – 4:47 pm -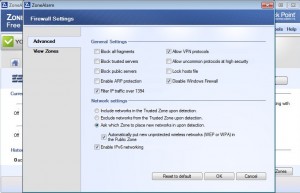 With online and malware threats still a very serious issue among computer users, providing secure protection from such attacks is essential. Firewalls have become the primary source of protection from such threats as they help avoid outside intrusion into your PC that you do not know about. ZoneAlarm has been one of the pioneers of installing firewalls into computers. Even through the years, it is still the most recognizable firewall software available. You can update your computer by getting the ZoneAlarm Free Firewall 2015.
If the year seems to confuse you, it is done with a purpose. Check Point wanted to move forward by disregarding a 2014 edition and move on to 2015 instead. In a way, you get a firewall that you can have in your computer until that year and beyond. Regardless of the naming, the ZoneAlarm Free Firewall 2015 is still one of the best performing free firewall systems around.
The ZoneAlarm 2015 is easy and quick to install. It still has the same simple interface with three big button panels for its main features. As a firewall application, ZoneAlarm is effective in hiding the computer system's ports from outside sources. This makes the computer invisible from outside attacks. Since the ZoneAlarm does not store its status on the computer registry, it avoids malware from terminating its protection through this route. ZoneAlarm can also resist termination through Task Manager exploits.
ZoneAlarm also prevents local programs in your computer from making improper connections. It makes use of the SmartDefense Advisor online database to automatically configure connection permissions for many popular programs. If there is a software or program in a computer not found in the database, ZoneAlarm will provide an alert to the user in case the said program is trying to access the Internet.
ZoneAlarm Free Firewall 2015 provides an effective firewall protection for your computer. It is considered as one of the best of free firewall programs available. If you wish to get advanced firewall protection, there are paid versions available that provide added features. But if you do not wish to spend money, then the ZoneAlarm Free Firewall 2015 is your best bet.
Tags:
check point
,
zonealarm 2015
,
zonealarm free firewall
Posted in
Filtering Software
|
Comments Off

on ZoneAlarm Free Firewall 2015