Written by Ardent Editor on May 3, 2014 – 3:42 pm -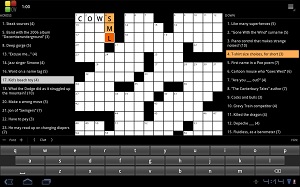 There are apps today that provide a number of different functions for people to use. These apps help make the smartphone become an even more useful and fun device. Most of the apps that people download involve games and play. There are the popular game apps that most people just cannot stop from playing when they have time. There are also several apps that can help improve every part of your life. If you wish to sharpen or enrich your mind and develop your smarts, you can have fun with the following apps:
Top Crossword Puzzle for Android
Crosswords are timeless mental exercise tools for many people. Now you can have one downloaded on your Android smartphone. The Top Crossword Puzzle app for Android devices provides people with hundreds of different crossword puzzles to solve. The puzzles are available for every level of play. There are free daily and weekly puzzles available as well as an archive of past crossword puzzles to enjoy. The app offers features such as asking a friend or even Google Search for help. Players can also get some hints through a letter or word reveal. There are also virtual trophies to win as well as daily worldwide competition to try out and win. Android users can download it for free at Google Play.
Duolingo
Learning a language can also help create new connections within your brain. It also helps strengthen existing connections, making your brain function better and sharper. If you wish to develop your mind by learning a new language, playing with Duolingo can help make it more fun and exciting. This app for both iOS and Android devices can help develop your language skills by providing quick and simple language games. The app can teach you languages such as Spanish, German, French, Portuguese or Italian little by little by simply playing the games. There are writing, reading and speaking games to play and enjoy. The app also keeps track of scores and progress.
Georeader
Another way to exercise your brain is by collecting and memorizing facts. What more effective way to learn about facts and information than by getting them from your immediate surroundings. Every place presents several interesting facts that most people take for granted. You can be more aware of these facts in every place you go to by using the Georeader app. Available in paid version for iOS devices and for free For Android users, the Georeader app uses the GPS on your device to determine your location. It can read aloud historical markers as you pass by them. It also provides interesting snippets of knowledge in each historical marker, adding to your wealth of knowledge without the effort. It is a helpful app for frequent travelers who wish to know more about places they have been to.
Lumosity Mobile
Just like your body, your brain also needs to exercise to keep it sharp and working at the optimum level.  Mental exercises that can help you create and develop new connections in your brain cells. If you are looking for some, you can use the Lumosity Mobile app for your iOS device. The app offers different areas of your mental skills that you wish to develop. It also offers different types of training sessions to help you hone and sharpen them. You can have exercises to develop your memory, mental speed, problem solving skills and others. The app also keeps track of your progress the more you use it.
Tags:
android apps
,
apps that can make you smart
,
ios apps
,
smart apps
Posted in
Apps
|
Comments Off

on Top Apps To Give You A Mental Edge