Written by Ardent Editor on June 7, 2014 – 8:30 am -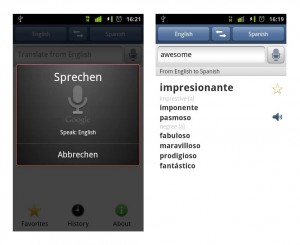 The language barrier is a common problem faced by many people when going to different countries. Although English is a widely spoken language, there are just some countries that are not that proficient with it. As a traveler or a tourist, finding an effective way to communicate becomes a great challenge. Make it easier on yourself the next time you travel by downloading the iTranslate Language Translator on your Android device.
The iTranslate Android app is a free translator that can help you find the counterpart of an English word, phrase or sentence in several different languages. The app contains over 50 different languages to choose from. Not only does it translate English words or sentences into another language, it also works in reverse, translating foreign words into English. In fact, users can translate in between different languages and not just English.
There are two ways you can use the iTranslate Language Translator. You can either type in the word or sentence to find out what it means in another language or you can say it directly into your device. Either way, the iTranslate will provide you with the translation in text or even spoken version. The iTranslate Language Translator is available at Google Play for free download.
Tags:
android app
,
free android app
,
free translator app
,
itranslate android app
,
language translator
Posted in
Apps
|
Comments Off

on iTranslate Language Translator Android App