Written by Ardent Editor on June 19, 2014 – 5:36 pm -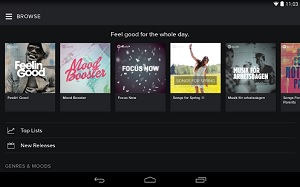 Some people just cannot let the day go by without listening to music. Some people need to have that habit of regularly listening to those favorite tunes whether at work or just relaxing. The use of smartphones has changed the way people now listen to music. Some prefer the convenience of music streaming services to get their daily dose of music. The Spotify Music Streaming App has recently become quite popular among the community of music lovers.
Music streaming is not entirely new tech to many people. The Spotify music streaming service just made it even more convenient for more and more music lovers to access their favorite songs. This app allows smartphone users to access a wide selection of music from different genres. Consider millions and millions of songs to choose from. The app allows users to listen to their favorite artists as well as full albums right on their smartphone using a Wi-Fi connection. Search features allow users to explore music from different genres and discover what songs are popular. Spotify also allows users to create playlists of their favorite tunes so that they can always access them easily at anytime. The app also comes with an online radio station that plays a mix of different songs continuously.
Spotify is a free music streaming app that users can download for free. There are versions available for Android, iOS, Windows Phone and even BlackBerry 10. There is also a premium version of the app that costs around $10 per month, in exchange for the privilege of downloading the songs for offline listening. Using Spotify requires user registration for access. For Premium app users, they can cancel their paid subscription at anytime as well. It is a convenient option for people who now prefer listening to songs without the need to buy physical albums.
Tags:
favorite songs
,
music streaming
,
smartphone app
,
spotify app
Posted in
Apps
|
Comments Off

on Spotify Music Streaming App