Written by Ardent Editor on August 19, 2014 – 4:18 pm -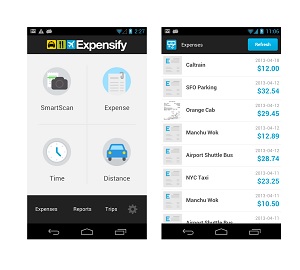 For business people and employees, creating expense reports has always been a time-consuming process. People need to keep the receipts, record them on an expense report with dates and amounts, review or recalculate them, and then pass them on to superiors. It will not be a hassle if it is not something many people do on a regular basis. Unfortunately, it is a necessary hassle that many people have to go through on a weekly or monthly basis. Many people will surely appreciate if preparing expense reports can be simplified further. That is what the Expensify Android App aims to do and offer its users.
The Expensify Android App is one of the more convenient ways to make preparing your expense reports easier. Instead of manually entering details in your expense reports, you can use Expensify with your Android smartphone to not only compile your expense receipts, you can also keep track of work times and rates as well as track your car mileage using the app. All you need to do is capture the image of a receipt using your smartphone's camera via the app. You then decide which expense category the receipt belongs to and you are done. The app's SmartScan technology is able to read the receipt and then create the expense for you, eliminating the need to manually enter expense data into your report.
The Expensify app has many other features that business travelers will also appreciate. The app can provide free flight alerts as well as provide automated travel expense report based on your itinerary. It also includes worldwide currency conversion support for travelers in different countries. Users can also integrate company expense policies into the app. The app also supports import/export of date coming from a variety of formats including Excel, Dropbox, Quickbooks, Evernote, NetSuite, SAP, Salesforce and more. If you have problems trying to prepare your expense reports, you can use the Expensify Android App to help make things more convenient for you. It is available at Google Play for free download.
Tags:
android app
,
expense reports
,
expensify android app
,
google play
Posted in
Apps
|
Comments Off

on Expensify Android App For Expense Reports