Written by Ardent Editor on August 19, 2014 – 4:20 pm -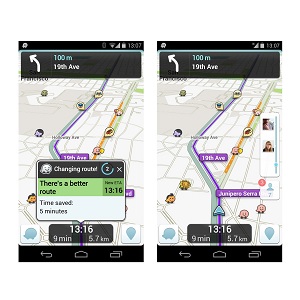 Using GPS maps for driving directions have become more common nowadays. But while typical GPS navigation devices can provide users with navigational directions going from point A to point B, there are some things they may lack. It may not tell you about the traffic situation along the way. It may not tell you whether a certain street may be temporarily closed for whatever reason. Instead of taking the shortest distance, you may end up taking the long route by being stuck in traffic sometimes. If you wish to not only get driving directions to a certain location but also traffic updates, you can always turn to Waze Android app for help.
The Waze Android app is a community-based traffic and navigation app. It makes use of information its large community of users provide to help each other get the traffic data based on location. Simply by opening Waze while going about, users can provide real-time traffic information with other users in the area. Users can also update with traffic information such as accidents, road closures and police traps and others to guide other users. It can also be a way to learn where to find the cheapest gas in a particular area or along your driving route. You can also update your location in real-time updates to others. Waze is a unique app in that the users themselves make it a useful app for getting around and avoiding being stuck up in traffic. The Waze Android App is available for free download at Google Play.
Tags:
community based traffic app
,
realtime traffic info
,
traffic app
,
waze android app
Posted in
Apps
|
Comments Off

on Waze Android App