Written by Ardent Editor on September 15, 2014 – 2:39 pm -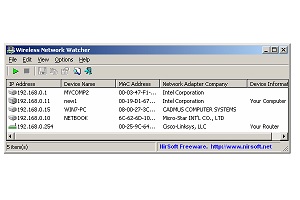 People are now more connected to the online world than ever before. With smartphones and tablets becoming popular devices for going online, WiFi networks have become an easy and convenient way to stay connected online. But sometimes security is compromised if your WiFi network is also being used by others, not to mention using the bandwidth that you should be using. Either you end up with a slow connection or a compromised network. Some people just do not have an idea how to check whether their WiFi network is being used by devices they do not know. Be aware this time by using the Nirsoft Wireless Network Watcher.
The Nirsoft Wireless Network Watcher is a free and simple application that will allow users to discover any computer or device that connects to a home network. It is also very easy to use- just launch the program and it will list down all the devices that is connected to a network router. Once users see the list, they can check out each device by their IP or MAC address to determine whether they can recognize them as their own. Users can also make use of the Device Name, Device Information and User Text fields to help determine the laptops, computers, smartphones or tablets connecting to the network. If that is not useful enough, there is also the Network Adapter Company field to help offer some additional clues. If users discover unwelcome guests connecting to the network, they can then change the WiFi network password to get rid of them. The Nirsoft Wireless Network Watcher is compatible with Windows XP and above. It is available for free download at the Nirsoft website.
Tags:
home network
,
network password
,
network security
,
nirsoft program
,
wifi network
,
wireless network watcher
Posted in
Filtering Software
|
Comments Off

on Nirsoft Wireless Network Watcher