Written by Ardent Editor on October 31, 2014 – 11:10 pm -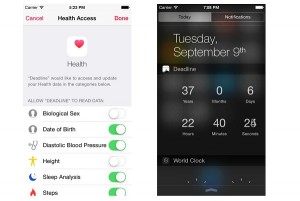 People try to stay healthy based on a number of reasons. Some do it because they need to. Some do it because they want to. In the path towards trying to stay healthy, motivation always plays a big role. There are now apps available that helps people keep track of their fitness results. Positive results always give that added motivation to continue on getting healthier. But there are also other apps that can provide the motivation you need to stay healthy in a different and morbid way. The Deadline iOS app offers that type of motivation.
The Deadline iOS app is an interesting app to help you determine your date of expiration. Although some may find it disturbing, Deadline can provide you with a way to know your estimated time of expiration based on the type of lifestyle you currently use the information users provide on Health Kit, if available. Deadline uses this data along with a number of lifestyle questions you need to answer to determine your "deadline". The app will indicate the number of years, months, days and even down to the decreasing seconds of your time living.
While some people may find Deadline too morbid, it can actually help give you the motivation you need to stay healthier and prolong your life. Changes in your answers to the lifestyle questions will change your deadline. Improvements in your fitness data will also do the same thing. In a way, this app helps give you a way to know how your habits and healthy changes can affect your life span. It can be a good way to help motivate you to change you unhealthy ways, if all others fail to convince you to do so. the Deadline iOS app is available at iTunes for a $1 download.
Image Source: iTunes
Tags:
deadline ios app
,
death app
,
expiry date
,
ios app
,
morbid app
Posted in
Apps
|
Comments Off

on Deadline iOS App