Written by Ardent Editor on November 8, 2014 – 4:30 pm -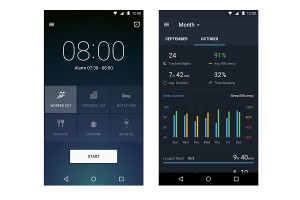 Many people today have problems going to sleep. It may be a result of stress or people just do not put that much importance to sleep time compared to their waking time. Quality sleep is essential for people who wish to live healthier lives. Sleep is the body's way to recharge and repair itself. Sleeping better means you can also be healthier. You need to understand your sleeping habits in order to determine the quality of your sleep. This Runtastic Sleep Better App will help you get on your way to better sleep.
The Runtastic Sleep Better app is a simple and convenient way to monitor and keep track of your sleeping habits. The app allows you not only to monitor your sleeping patterns, but it also provides you with insights into your sleep quality. You can also keep a sleep diary using the Sleep Better app. For it to work, users need to enter daily variables and habits that can affect sleeping patterns such as caffeine or alcohol consumption, stress levels exercise data and more. These variables are then used by the app to determine how they can affect sleep quality. The app can also help users to note their moods during the day to determine if you are in your best sleeping condition.
The Sleep Better app allows users to take stock of their sleeping habits and improve on it for better health. Its usefulness lies behind taking different variables into account in order to determine and provide users with better insight about the quality of their sleep. The Runtastic Sleep Better app is available for free download for both iOS and Android devices. But the free version may have limited functions that can be opened by purchasing the premium versions of the app.
Tags:
runstastic sleep better
,
sleep app
,
sleep better app
,
sleep monitor
,
sleep quality
Posted in
Apps
|
Comments Off

on Runtastic Sleep Better App