Written by Ardent Editor on November 22, 2014 – 3:47 pm -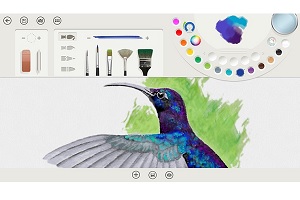 People who have used Windows are familiar with Microsoft Paint. For years it was the default program people use to touch up photos quickly or even create digital artworks the easy way. It has not changed a lot since it was first introduced. Yes, other features were added and refined. But it was still the Paint app that many people have grown to love using. Now that such apps have become handy in smaller and more portable devices with touch functionality, certain changes are needed to make such app adapt. The Fresh Paint App does just that.
The Fresh Paint App is designed to take advantage of the new features of Windows 8. This app also comes with features that allow people to have more freedom and artistic choices to unleash their creative side. This app allows users to make use of realistic digital oil paint for creating digital art. There are different options available such as the choice of brush size, color mixtures and the use of different painting templates. Users can either use a blank canvas or an existing photo for their art.
The Fresh Paint App for Windows 8 is a simple yet ideal tool for people to unleash their creative side. The Fresh Paint App for Windows 8 is available for free download at the Windows Phone Store.
Tags:
fresh paint
,
fresh paint app
,
microsoft paint
,
windows 8
Posted in
Apps
|
Comments Off

on Fresh Paint App For Windows 8