Written by Ardent Editor on January 22, 2015 – 10:38 am -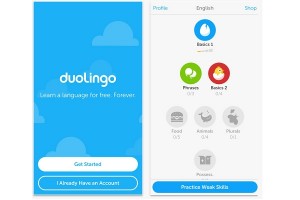 Some people would want to learn a new language but may not always have the means to do so. They may not have the time to go to language classes to learn one. Thanks to the popularity of apps as useful tools for many tasks, people may not have the means to learn almost any language. They can even do that for free with the Duolingo iPhone App.
The Duolingo iPhone App is a great language learning app for native English speakers. It offers a wide range of content for people who wish to learn one of the many major languages in the world. It can provide both visual as well as audio lessons for users of the app. Language lessons come in small and easy to digest blocks. Users proceed to the next level as they learn to understand and master the previous one. Each small lesson level is connected to a larger unit belonging to a specific language category. You can even keep track of your progress as the completed sections change its color to gold. Incomplete sections come with a progress bar below it.
There are also tests that will help users know if they really have learned. Certain lessons can be skipped to move on to other levels is users are able to pass the tests. There are also a wide range of exercises available for users to do in order to not just learn how to write in a specific language but also on how to vocalize them properly. The Duolingo iPhone app is a very useful language tool for people who would love learning a different language. What's more, it is free to download at the App Store. Now, you have the opportunity to learn a new language at your own pace and without it costing anything on your part. Well, except maybe that you need to buy a smartphone to download one.
Tags:
duolingo iphone app
,
language app
,
language learning app
,
language learning tool
Posted in
Apps
|
Comments Off

on Duolingo iPhone App