Written by Ardent Editor on February 13, 2015 – 5:50 pm -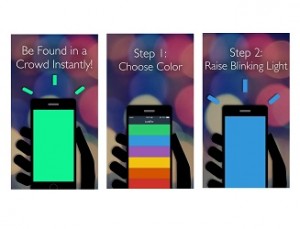 Smartphones have become the go-to device for many people today. It no longer just functions as a device to make and receive phone calls. People now use it for a variety of functions, thanks to the wealth of apps available nowadays. But most of the time, people use it to play games of update their social networks. But it can also be used as a tool for a variety of tasks. You can use it as a way to get attention in the crowd with the LookFor App.
The LookFor App is a simple application that can help you divert attention to your phone when it may be necessary. No, it is not to let others notice your new smartphone with its cool case. You can use the LookFor App for more than just that. Imagine trying to catch the attention of friends in a crowded room- then you will realize how useful this app will be.
The LookFor App makes use of your phone display as a blinking signal light to catch the attention of your friends who might be in the crowd. Just simply open the app, choose the bright color you want to use and then the display will start blinking brightly. Just hold your phone up above your head and above the crowd to direct your friends to your location. It is a handy tool to use for locating friends and be found in large outdoor crowds or even at the theatre. You can even use the app when hailing a passing taxi to get the driver's attention. You can even use it to help a delivery vehicle find your house by going outside and using the app to flag them down when they are already at the vicinity. The LookFor App is so simple and yet so effective. There is no need to use your phone's GPS or a WiFi connection to locate friends in a crowd. The LookFor App is available for both Android and iOS users. You can download the app at Google Play and the App Store for a $1 download.
Tags:
android app
,
getting attention
,
ios app
,
location app
,
lookfor app
Posted in
Apps
|
Comments Off

on Use The LookFor App To Get Attention In The Crowd