Written by Ardent Editor on March 13, 2015 – 3:01 am -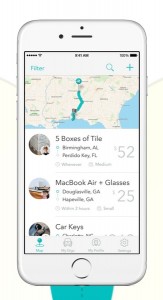 Sending packages from one place to another still works just as they did in the past. People get the services of cargo forwarders in order to ship their packages to their intended destination for a price. Sometimes, these services can be costly and they do not always deliver to certain destinations. This can be quite a letdown. A bigger letdown is that there are no other alternatives other than a very costly specialized shipping service. When there are instances like this, there is bound to be an opportunity somewhere. The Roadie App may just provide a more affordable alternative.
The Roadie App is based on a concept of delivering cargo using people traveling to the same location. You can consider it as a crowdsourcing effort to deliver cargo or shipment. Based on the Roadie concept, people who become members of the community can check for Gigs and for available Roadies. A Gig is what they call a shipment or delivery. The Roadies are screened and verified drivers who are traveling to a certain location.
Members of the app can post Gigs including the details of the cargo with pictures including the price they are willing to pay for the delivery. Roadies then choose the Gigs they like based on location, price, and even using ratings and reviews. Once a Roadie agrees to a certain Gig, he or she contacts the sender and they both come into an agreement of pickup, payment and time of delivery. In such cases, the two parties are always both in control.
The Roadie app is just not a way for bring Gigs and Roadies together. It can also be used to keep track of the delivery in real time. Senders will be able to know where their cargo is at a certain time. Not only that, they can also connect with the Roadie along the way by using the app. With the Roadie app, people can enjoy certain benefits they do not usually do when sending and delivering stuff. Senders can take advantage of the cheaper alternative of sending packages from one location to another. Roadies can earn some extra money going somewhere they are heading to anyway simply by delivering cargo. It is a simple concept that may just become popular as more and more people join in. The Roadie app is available for free download for both iOS and Android devices.
Image Source: Roadie
Tags:
cargo delivery
,
cargo delivery alternative
,
roadie app
,
roadie community
Posted in
Apps
|
Comments Off

on Roadie App