Written by Ardent Editor on June 27, 2015 – 2:30 am -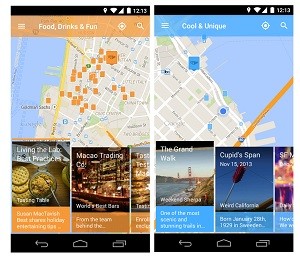 Many people love to travel. Whether is it just around the block or an ocean away, traveling is an adventure that gives you a different look at life by venturing into some place you are not accustomed to. It opens up your perspective and outlook. If you are a frequent traveler, you are always interested to know about the places you visit. The Field Trip Android app will help be your guide as you wander along into new streets, cities and places.
The Field Trip Android app can help you discover the many different things in the world around you. Whether you are just walking around the block or visiting another country, Field Trip will provide you with unique and interesting information you may likely discover in your immediate surroundings. You get to learn many interesting tidbits in different categories such as Architecture, Historic Places & Events, Lifestyle, Offers & Deals, Food Drinks & Fun, Movie Locations, Outdoor Art and Obscure Places of Interest around you.
The app works in the background of your smartphone and there is nothing to click when you open it. The app will retrieve the information and pops up as a card with the details of the location. When you wear your headphones, the app can even read the information to you as you get near these places of interest. The app works with your phone's GPS to locate and retrieve relevant information from your immediate surroundings. The app partners with several travel and other similar publications to provide you with the information you need. The Field Trip Android app will help make your trips more interesting as you discover different things simply by just walking by. This app is available for free download at Google Play.
Image Source: Google Play
Tags:
field trip
,
interesting local information
,
location information
,
travel app
,
travel info
,
useful app for travelers
Posted in
Apps
|
Comments Off

on Field Trip