Written by Ardent Editor on July 23, 2016 – 1:55 pm -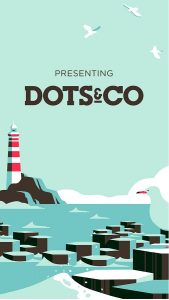 Even in this very hectic world people now live in, it is a wonder how many still can find time to kill. But even the modern conveniences people enjoy today also offer some unwarranted down time. And when people find time to kill nowadays, they usually bring out their mobile devices. Aside from music and movies, mobile games also offer a good way to pass the time to avoid getting bored. The new Dots & Co. mobile game may just be that next choice for you.
Dots & Co. is a simple and yet relaxing mobile game that lets you complete simple and enjoyable challenges through your smartphone or tablet. The objective of the game is simple- try to connect at least two dots of the same color arranged on the given puzzle board on the screen. Players can then go through completing each puzzle or maze to complete the level. It is a simple and yet enjoyable game that many people can relate to.
To avoid players from getting bored playing the simple game, there are companion dots on the board that help players clear each level by using special moves every time the energy bar on top of the screen becomes full. Players can also use the companion dots and link with the ordinary dots to give it a boost. Going through the different levels will help unlock more of these companion dots that players can use, making advancing through the different levels and challenges more appealing.
Players of Dots & Co. can also take advantage of getting three stars for every level they complete in order to maintain the number of lives available to keep playing. Initially, players will get 15 on the energy level for lives. They need to get three stars on challenges to make sure that their lives are always replenished for the next game. Dots & Co. is one of the least stressful games out there. It is also generally free to play so you do not have to fork up any money to start playing it. This mobile game app is available both at Apple iTunes and Google Play for free download.
Image Source: Google Play
Tags:
dots and co
,
game app
,
mobile game
,
smartphone app
Posted in
Apps
|
Comments Off

on Dots & Co. Game Can You Your Next Fave Timekiller