Written by Ardent Editor on February 2, 2017 – 9:07 pm -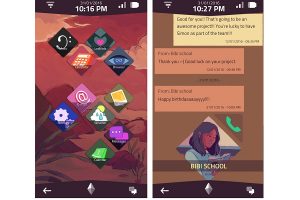 Just when you think that game apps market may no longer be as exciting as it was years before, then think again. Even with the usual games apps popular today do not seem to offer anything new, then maybe you may not have been looking that hard for those unique ones. While most will certainly look common to you, there are also other unique apps that will certainly capture your fancy immediately. The "A Normal Lost Phone" game app will surely do just that with the puzzle-loving digital crowd.
A Normal Lost Phone is  a game app unlike any other in terms of concept. Well, it is safe to say that this type of puzzle game is really unique but quite so simple really. It is a puzzle game that starts out as finding a lost phone. The game app features a theme where players may need to solve a puzzle or discover the character of the owner of the lost phone. The game will have the player go through the text messages, contact list, calendar and even the music player of the owner's lost smart phone, where everything is designed and created to look and feel like one. Players will then try to piece together who the owner is, discover relationships and issues, and begin to piece together the story.
The "A Normal Lost Phone" can be an exciting game for people who always love puzzles. Sifting through the lost phone's contents provide clues that will help the player move through the puzzles and discover what the story is all about. It is available in iOS and Android devices for download at a cost of around $4.
Image Source: Google Play
Tags:
A Normal Lost Phone
Posted in
Apps
|
Comments Off

on A Normal Lost Phone Lets You Play Within A Smartphone On Your Smartphone